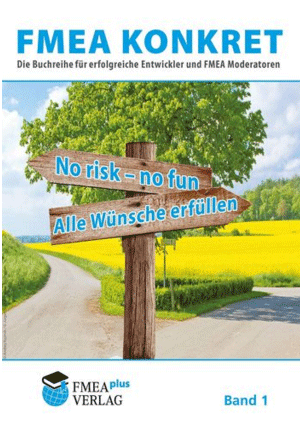 FMEA-konkret
Preventive risk analysis concretely with FMEA plus. The series of successful developers, trainers and presenters
Many FMEA moderators and developers are sent to basic training directly to the front, left alone with many questions that only appear during the detailed discussions. The consequences are often heterogeneous and incompatible methods - even within a company.
Our aim is to provide you with this series of books, which include also the latest developments in the methodology and know-how of experienced moderators for top professionals as well as for beginners. Furthermore, we intend to actively promote the networking of FMEA facilitators and advance and unify the methodology (s).
FMEA - Introduction and moderation: This book will help you to understand and apply the methodology FMEA as well as some of the related matters. It sweeps away with the prejudice, FMEA would be "just" a quality tool that is carried out by quality specialists. Rather, the FMEA can be used in any industry as a tool to highly predictable, transparent and goal-oriented implementation of products, projects, tasks and services. The structured approach supports troubleshooting, thus creating new ways of thinking (preventive quality assurance methodology and risk analysis).
When used correctly, you will save time, money and capacity.